The Clearwater Commercial Plumbing Team Local Businesses Count On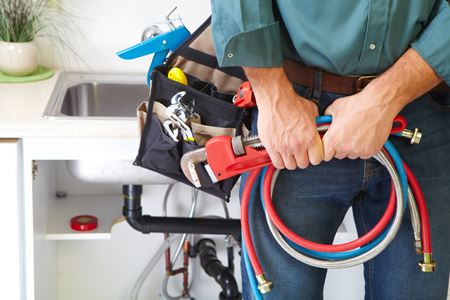 It makes sense to want to work with the best of the best when it comes to commercial plumbing in Clearwater, FL. This is why so many local business owners opt for Dependable Plumbing & Drain Cleaning – after all, the name says it all. In addition to the wide range of superior quality residential plumbing service work we offer, we also take care of commercial plumbing repairs, installations, and maintenance as well. From minor repairs to major plumbing system overhauls and replacement, we can take care of your Clearwater commercial plumbing service needs.
We know that the commercial plumbing repairs and work that you may need taken care of could be the difference between your business being up and running, or not. So you can count on our team of commercial plumbers in Clearwater experts to be punctual, honest, hard working and ready to tackle whatever it is that you need taken care of. This includes arriving with a fully stocked service vehicle equipped with the tools and parts most often needed to complete a job. Plus, we will offer you the best in affordable rates even though other plumbers in Clearwater see this as the prime opportunity to price gouge.
Commercial Plumbing Pros
Led by a third generation Master Plumber, you can rest assured that all of our experienced plumbers are beyond capable of dealing with all stages of plumbing including new installs, inspections, repairs, replacement, and commercial drain cleaning in Clearwater and the surrounding areas. It is important to feel confident that the Clearwater commercial plumbing professional that you call in has the ability to correctly diagnose the problem at hand, as well as address whatever is required to rectify the situation. Some of the issues we can handle for you include:
Boiler installation and repairs
Slab leak detection and repairs
Water heater installations and repairs
General plumbing maintenance and repairs
Plus so much more
Don't take chances with the commercial plumber in Clearwater you entrust to carry out your company's need for repairs and plumbing services in Clearwater. When quality matters, as it always should for your commercial plumbing needs, you can count on our Clearwater plumbers.
Clearwater Commercial Plumbing
Let us help you keep your business up and running, by addressing your need for quality plumbing work. At Dependable Plumbing & Drain Cleaning, it is as important to us as it is to you to get your plumbing issues addressed. As a locally owned and operated business, we know the importance of minimizing the disruption in business.
Give us a call today to find out more about what we can do for your business. When it comes to the best in commercial plumbing in Clearwater, you can count on our company. Your plumbing service needs are our number one priority.
---
Commercial Plumbing Gallery